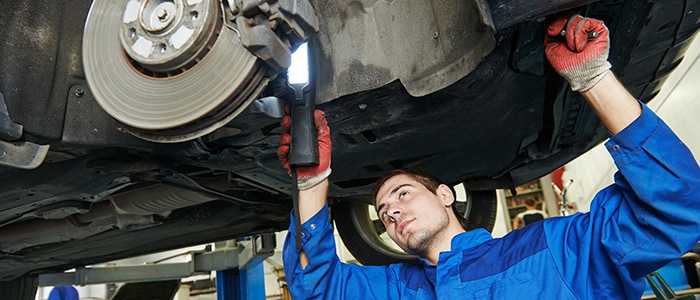 Brake maintenance is important for any vehicle, but on a car that's as fun to drive as an Audi, it's a top priority for drivers to have their brakes checked out frequently and thoroughly.
Besides ensuring your safety while you're behind the wheel of your Audi, regular brake inspections will lengthen the life of your brakes, improve the functionality and save you money in the long run. At Jack Daniels Audi of Paramus, the experts in our service department know what your vehicle needs to stay healthy.
Audi Professional Brake Services at Jack Daniels Audi of Paramus
Bringing your car in for regular maintenance appointments can seem tedious, but regular brake check-ins are recommended for a reason. At Jack Daniels Audi, our service team has the training to spot problems in advance and keep your vehicle running up to our high expectations, particularly when it comes to something as important as your brake system.
There's no need to get overwhelmed by the complexity of an Audi or its brakes. At Jack Daniels Audi of Paramus, our technicians know just what you need and they'll use only OEM parts and equipment when performing maintenance tasks and repairs. If you'd like to order parts ahead of your service appointment, you can use our online order form.
Setting appointments according to advised service intervals is the easiest way to stay ahead of any costly problems, but here are some signs to look out for if you suspect your brakes are in need of a check-up:
High-pitched squeak when you step on the brake pedal
Grinding and scraping noises when braking
Taking longer to stop than normal
Vibrations in the brake pedal and steering wheel
Your car pulls to one side when braking
Low Brake Fluid dashboard icon lights up
If any of these problems come up, our expert team in Paramus, New Jersey can handle it. But don't wait to fix these costly issues. Book your Audi brake inspection with our service department today.
Don't hesitate to reach out with any questions or if you're in need of any other maintenance services. Our staff in Paramus loves to see customers from our hometown as well as nearby Fair Lawn, Jersey City, and New York City.