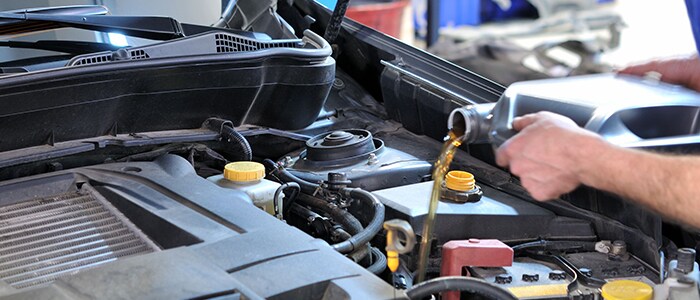 Your Audi is not like other cars on the road. It delivers superior performance, style, and luxury from the moment you leave your driveway to the moment you arrive at your destination. You can demand a lot from your Audi, and in return it asks for a greater level of care during maintenance visits, especially when it's time for an oil change.
Machines crafted with precision require exacting care and attention to detail. You won't find that level of service anywhere but your local Audi dealer. If you're wondering where to get your Audi's oil changed, visit Jack Daniels Audi of Paramus. We'll explain why.
Oil Change for Audi Owners in New Jersey
Unlike other manufacturers, Audi provides owners with a specific and detailed maintenance schedule, so they know when it is necessary to have their car's oil changed. When you need to have an oil change done is determined by a number of factors, and any number of these could lead to more rapid oil use:
oil quality
oil viscosity
engine rpm
outside temperature
road conditions
oil dilution caused by condensed water or fuel residue
oxidation of the oil
driving habits
A brand new engine may also prompt more frequent oil changes during its break-in period.
That said, if you follow the official Audi maintenance schedule for your model, you won't have to worry about anything. This is doubly true when you bring your car to an authorized Audi dealership.
It's vital that your car is serviced with oil that meets Audi's specifications. More than any car you've owned previously, this engine needs high-quality oil - while having factory-specified oil and filter changes - to guarantee proper lubrication and optimal performance.
As the authorized Audi dealership in Paramus, we keep a full stock of synthetic oil that meets Audi's standards for gasoline and diesel engines. Jack Daniels service technicians also know the maintenance schedules for every car we sell, and they can help you schedule your next oil change if you aren't sure how often to do so.
We strive to satisfy every customer, and we promise your experience with our Service Center will be the best you've ever had. You can take advantage of the full benefits provided by our dealership, and our staff will service your vehicle as quickly as possible, returning it to you running better than new.
Call or visit Jack Daniels Audi of Paramus if you have questions or if you would like to schedule a service appointment. Our dealership welcomes visitors from Fair Lawn, Jersey City, and New York City, so don't hesitate to stop by if you're near our location.
Don't forget to check our Service Specials page to see if we are running any coupons on oil changes or another service you might need. We offer competitive prices on filter replacement and oil changes, but we don't mind saving you money when we can.